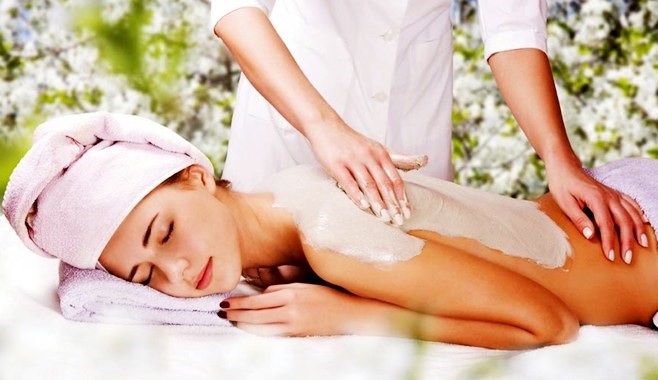 When it comes to beautifying the glory, women usually prefer facials only. However, some people try some other ways as well to beautify themselves. When it comes to proceeding with the perfect care on the body, the body polishing is the perfect remedy.
Have you lost the youthful glow of your skin? Is your skin looking dull and lifeless? Then it is the best time for a revitalizing all-over body polish to restore its fresh glow.
If you've never had a body polish, also known as sugar scrubs, complete skin care before, then you don't know what you're missing.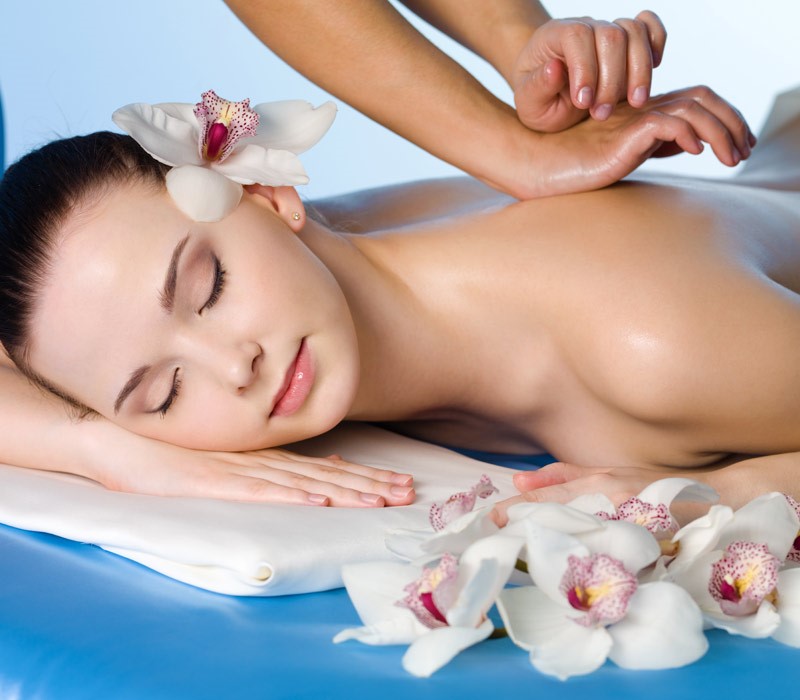 Image Source: Beaupal.com
The body polish is a famous and most commonly accepted body treatment that exfoliates and hydrates your skin, leaving it smooth & soft. It is like a beauty treatment for the entire body just like a facial and unlike a massage. However, you can enjoy the best benefits of body polishing if done at a spa.
A number of beauty parlors and salons for body polishing in Delhi NCR are there to deliver the perfect benefit with their excellent body polish services. But before we make you aware of the list of top 5 salons for body polishing in Delhi NCR just go through with the variety of body polishing benefits.
Variety of benefits associated with the body polish technology
Body polishing benefits by exfoliating your skin and remove dead cells. This brings up the new and healthy cells, thus makes you look young and attractive.
Body polishing in salons also promotes new cell growth.
You can relish the feeling of soft, glowing and healthy skin.
No more dryness as with body polish your skin gets moisturized and hydrated totally.
Body polishing also acts as a cleanser. If you have oily skin then it helps remove oil and dirt from your skin.
Further, with physical benefits, body polishing also offers therapeutic advantages. The time you spend at the salon for body polishing in Delhi you can use the time to reflect and think. Just relax and enjoy the pleasure of the therapy.
Body polishing scrubs due to its rough texture, promote blood flow.
Body polishing also cleans out your pores and allows body products go deep within.
Now that you are aware of some of the amazing benefits of Body polishing then you must be aware of various types of options available for you at the best salons for body polishing in Delhi NCR. Have a look on
Popular Types of body polishing in Salons
Himalayan salt rub
This exclusive body polishing technique features rock crystal which is the purest salt on the planet followed by nourishing creams. It replenishes and balances the essential minerals that are naturally present in the skin.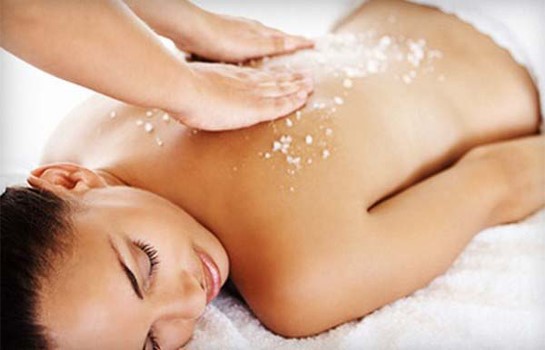 Image Source: healthindian.com
Nourishing Body Glow
It is the type of body polishing available at some of the best salons and comprises of oils like aloe Vera and jojoba. This brings natural back effectively.
Also Read: Different Facials for glowing skin
Brightening Body Polish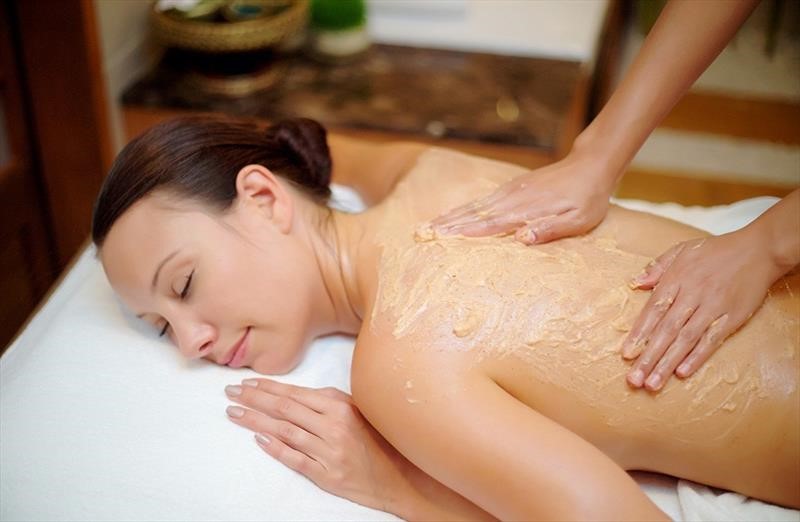 This is the type of body polish designed to eradicate the dead skin cells from head to toe. Ground pumice stone and citrus oils are used commonly in this treatment but some spas use other constituents as well.
Also Read: Essentials beauty tips for bride
Tan-optimizing Body Polish
Tanning is most common problems scaring every lady these days. This skin-smoothing and dead cell-removing body polish is the perfect solution to this. It is the preparation of the skin to get rid of tan and get the radiant look back.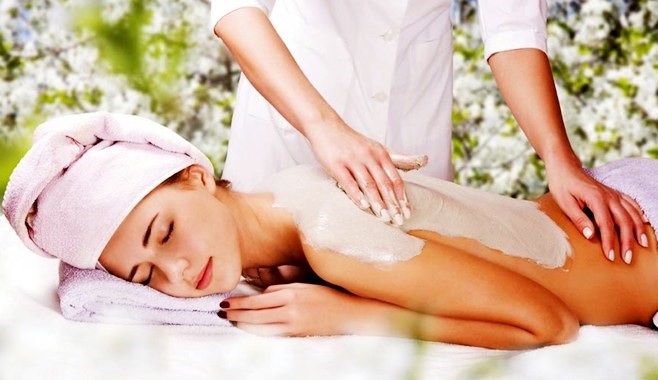 Image Source: weddingplz.com
Anti-cellulite body polish
Designed to help streamline and drop the formation of lumpy-looking fat cells (cellulite), this body polish makes you look slender. It often comprises of refreshing coffee within their ingredients to help inspire circulation within. It helps improve the appearance of the flabby areas
There's nothing best like a skin-softening, head-to-toe soothing massage by a professional at the salon. The radiant glow achieved with the exfoliating treatment helps you feel and look a fresh in without much hassle.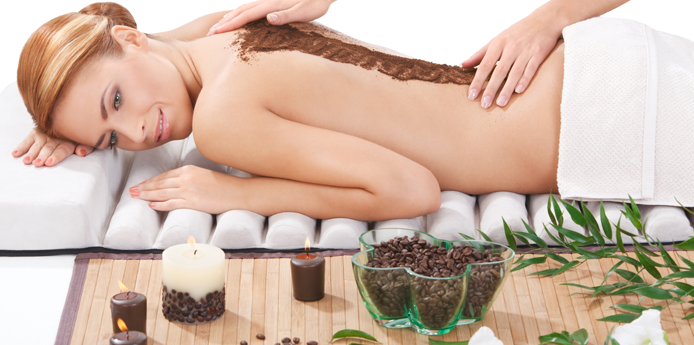 If you've never visited a spa before, or you've simply yet to experience a relaxing yet energizing body polish though. Just have a look at the list of top 6 salons for body polishing in Delhi NCR where you can enjoy a lavish body treatment.
This Delhi salon is available to deliver best treatments that are offered in some of the best salons in Delhi NCR. You can enjoy world class body manipulations here done at affordable rates.
Address: E – 104, Central Market, Lajpat Nagar -II, New Delhi
This is one of the most renowned salons that offer top notch services. If you are not getting really satisfactory services anywhere then come to this salon. Here at Trendz unisex salon, you are sure to get a celebrity like treatment.
Address: Shop No-6005, Dlf Phase-4 Gurgaon
Are you enthused by international makeover? Then get the international treatment at Yashika Makeovers. The trained stylists and body polishing experts can offer you high standard services and styles that few other salons can. You need to be in Delhi to go to this salon.
Also Read: Benefits of paraffin wax manicure
Address: 343, Kohat Enclave, Pitampura ,Delhi-34
Exotic is the name given to the body care services given here as it is one of the high-end salons. You will get the top of personalized hair styling services inspired from international establishments. You need not be worried to pay hefty prices as it is quite lighter in your pocket. We think it's worth it for a one-time indulgence!
Address: E-85, Krishna Market, Lajpat Nagar-I, New Delhi, Delhi 110024
For professional body and hair care services that will enhance your look, this is your destination.  Whether you want something extravagant or understated, Hair Mukul Unisex Salon has a range of the most skilled stylists to satisfy your wishes. Enjoy something extravagant by trying pedicure, manicure, some awesome body polishing, and other beauty treatments as well.
Address: E-137,Lajpat Nagar Part 4,New Delhi-24
Now it's time to enjoy a revitalizing body massage at one of the best salons in Delhi NCR for body polishing.
Olready help you experience an amazing massage with lotion, coupled with an exfoliating treatment as it will deliver a radiant skin year around.
Enjoy the thrill of having a sexy, soothing body polishing without having to worry about booking an appointment aging spotting, or any other skin problem.