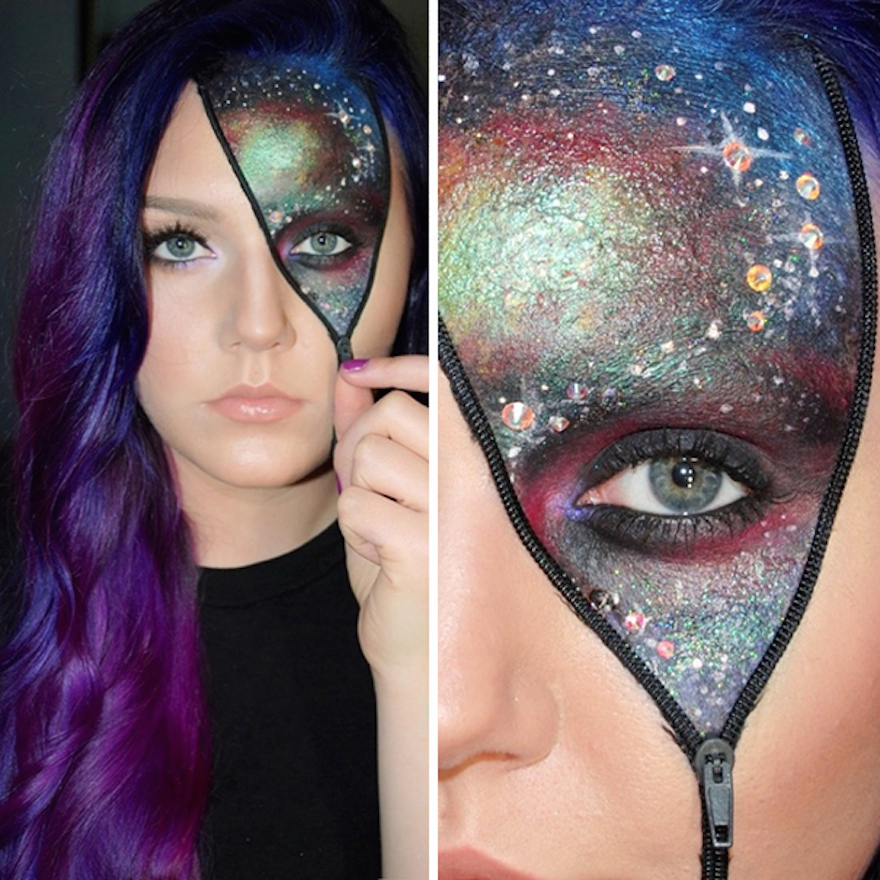 Have you found the flawless outfit for Halloween, but need a little something, something to flavor it up a bit? Looks like you've come to the right place. We've got 7 Halloween makeup ideas to take your mysterious look to the next level. Scroll through for our favorite beauty looks that will give you that super look this Halloween.
Comic book art
Rock a comic book girl look this Halloween! Try this 3D makeup design that will make you look like you just stepped out of a comic book. Add POW for extra Comic girl emphasis.
Poison Ivy
This plant obsessed, supervillain makeup is a must try for the people who don't want to look that frightening and want to look poles apart. Make sure you style up those trademark gorgeous red hair in an interesting way.
Tinker Bell look
Look both sweet and sassy with this look. Green eyeshadow and False eyelashes are the secrets to making your eyes look bigger and more fairy-like when you're moonlighting as Pan's sidekick.
Illusion Face
Why not freak out a few friends this Halloween with an illusion makeup that's simultaneously cute and spooky.
Mermaid Makeup
We'll admit, this one looks difficult to DIY, but it's actually super easy. Simply stretch a pair of fishnet tights over your head and pat on colorful eyeshadows. It's that easy!
Colourful Zipper
This look will make those jaws drop.
Are you just absolutely stuck on what to be for Halloween? Go a little outside the box and add this colorful zipper detailing to your face. It's sure to turn some heads.
Sugar Skull
If you are looking to celebrate the Day of the Dead in style, try out this look. It will help you master blending. This multi-colored look will prove that you live for Halloween.
Try on these makeup looks to be noticeable this Halloween!