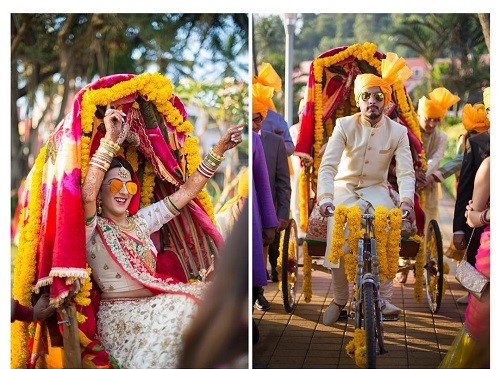 The big fat Indian wedding is not just a ceremony, it is an extravaganza event which has multiple rituals enveloped. From performing the Naagin Dance to the Band, Baja, and Barat, playing Antakshari to hiding the groom's shoes.
From practicing and rehearsing for the Sangeet, to performing on the DJ night. When it comes to marriage people always want to do something unique which grabs a lot of attention. So this season make your entry Dhamakedar.
Yours won't be just another cookie-cutter wedding – here are some ideas to make your wedding entry a standout celebration.
Carriages
If you want to feel like a princess, then this entry is the best to put you into the limelight. You'll just feel like Cinderella. Add on some flowers on the carriage to give it the perfect look.
Swag dikhao, Enter on a bike
Be a Hatke Dulhan with hell lot of swag! Make a dashing entry at your wedding venue, either on a bike or in a vintage car with your toil.Make your grooms jaw drop but take precautions if you do not know, how to ride a bike. You can add fireworks to the sides of your bikes to give that *WOW* effect.
The Glowy way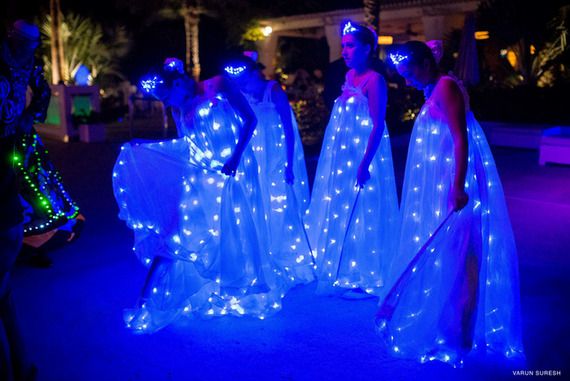 Sparkles and Fairy lights are just the perfect setups. The idea of fairy lights will just lighten up your mood and make you feel like a candle who's lighting up the dark. This glowy way you can just make your entry unique.
All about Silhouette
The usage of the silhouette is back and is trendy. You can make cute gestures and convey a story and then get out of the silhouette. This way you can stand out in the crowd and do something different.
Zorbing
This is for the adventure lovers and the people who want to look like those perfect cute couples in the movies. The zorbing way will be the kickass entry which will grab the attention of all the people.
Do it the Dhol way
Indian weddings are known for their loud music and dance. An entry with the dhols is a must for that big fat Indian wedding. And this entry will make everyone dance.
Dhamekedar Entry
Get a huge poster made with a little romantic line or lines which signify you as a couple and run through it like you are just finishing a marathon.
The Book Concept Entry
There can be a setup of a book and each page unfolds the story of the couple. The last page of the book consists of the couple and they enter with a bang. This is a cute way of entering your big day and reliving those cute moments spent with each other.
Entering with your, 'Superhero'
Superhero doesn't always mean your groom, guys. Enter with your dad aka, The Superhero of your life and make him feel overwhelmed. This will bring out those emotions and make you realize how much you are going to miss that one man in your life and how different your life is going to be hereafter.
Enter with your pet
The internet is viral with these type of things. Pets are the most adored and loved members in the family. Entering the big day with your pet will make those audiences eyes pop. Dress your pets in suits or dresses to leave everyone awestruck.
What are you waiting for? Utilize these ideas to the fullest or get inspired by them and try something new this wedding.