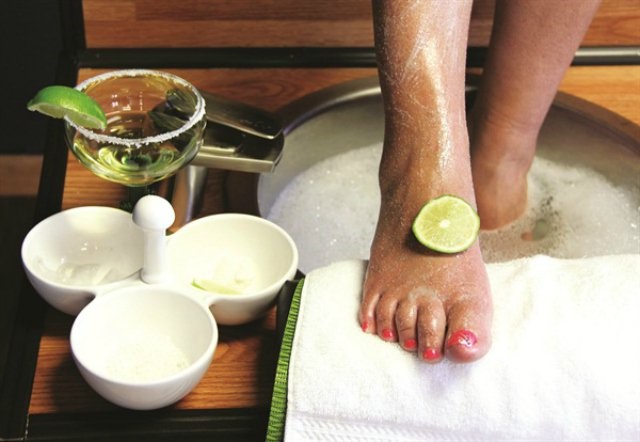 The epitome of the breathtaking beauty of any lady is her beautiful feet and hands. And to get the best pair of feet and hands a lady has to go for pedicure and manicure respectively. Toning up your own self is no more a waste of time and money, as most of the ladies usually think it as an unnecessary luxury. Rather it is the most important investment that pays you out, glamorizing your appearance in gatherings.
It is an advice to be different among commoners. You can skip other regular tasks like watching TV serials or cooking something special at home. But a pedicure is a must for every beautiful girl who wants to be a lady and make her feet healthy and happy.
You must be unaware of how many types of pedicures are nowadays available at salons and spas. Different varieties are there with different procedures done using various ingredients. There are a few which are considered as the best types of pedicures.
When you will visit a spa or salon, you will be handed a menu card describing different types of pedicures. However, all these pedicures include cleaning, scrubbing your feet, filing nails, moisturizing and a foot massage. But, the sole difference is the ingredients used, the process applied and of course the purpose of it.
No more finding cheap pedicures. Here are some of the best types of pedicures that you can get in foot spas these days.
Wine Pedicure
Who knew that wine could also be good for your feet? Speciously, wine is great for your skin, and hence the trend of wine pedicure began. Believe it or not, wine is really packed with rejuvenating antioxidants that make your feet softer and enliven up cuticles and calluses. So, wine pedicure usually begins with a foot soaked in wine followed by classic pedicure steps. Now say CHEERS to your feet as well!
Fish Pedicure
One of the oddest trends famous due to its natural effectiveness fish pedicures. Although the basis of this type of pedicure is similar to classic pedicures: the removal of dead skin and calluses with a pumice stone or a metal foot file scrub. But doctor fish pedicure handles the calluses and dead skin in an entirely unique way.
Image Source: fashionandbeautyblogger.com
Small carp fish also called as Garra Rufa Fish or sometimes as doctor fish, nibbles the calluses and dead skin off your feet and toes. It is the most painless practice for making your feet healthy and glowing.
Paraffin Pedicure
Have dry and cracked feet? Don't worry! Paraffin pedicure is best suitable for you as it provides excellent results. This pedicure makes your feet dipped in paraffin wax. This is just to help soften and moisturize your skin better than anything else. Paraffin consists of an alkaline wax substance imbued with hydrating properties. Actually, the warm paraffin wax helps opens up the pores of your skin and hence nourishes it better. Regain beauty in your feet with this therapy.
Milk And Honey Pedicure
This is the most unique and quite difficult to find, but worth the search. Milk and honey pedicure starts with a soothing soak of your feet in a warm milk bath followed by an exfoliating sugar scrub and then a honey mask. However, some people also compare milk and honey pedicures with paraffin wax treatment. But, both differ in effects as this one is a super hydrating and skin softening process suitable for those looking for extra moisture and exfoliation.
Hot Stone Pedicure
A hot stone pedicure is taken as a regular pedicure which is usually followed by an application of body polish to your feet and legs as well. After applying the mask, your legs and feet are also covered with a warm towel for at least five minutes.
After rinsing and patting up your legs and feet, you will see amazing results. This is the answer to most asked question –does it a pedicure help cracked heels? And the answer is, yes, definitely! A 20 minutes massage using hot stones on pressure points followed up with a standard massage gives incredible results. It helps relax your tired muscles on feet giving a peaceful experience.
Chocolate Pedicure
For all the chocoholics, this pedicure is really a treat as it uses everything you can think of from the world of cocoa, chocolate foot soak, chocolate foot mask, and then chocolate moisturizing lotion.
Chocolate-hued nail polish is optional. Actually, sweetness has amazing feet benefits, including the fact that cocoa effectively and naturally moisturizes your skin. The aroma is like a Bonus: as smelling chocolate has been said to induce feelings of euphoria, a feel-good treat for your footie.
Margarita Pedicure
A feel-good pedicure is here as your feet deserve to party too and that's what Margarita Pedicure is famous for. One can take it as a classic pedicure, except the ingredients used: lime footbath, a lime-based massage oil, salt scrub, and ending with lime-scented moisturizer.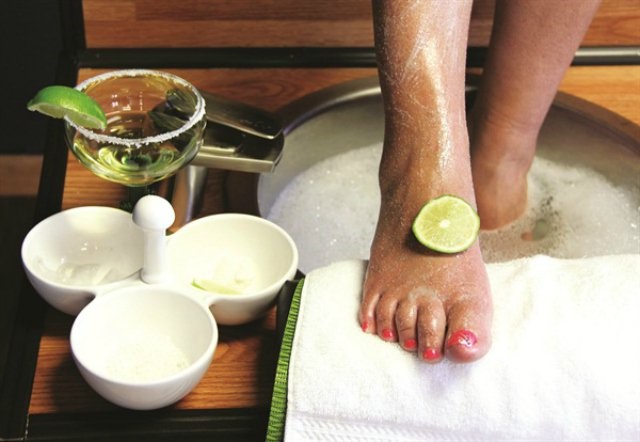 Image Source: Makeupandbeauty.com
And if you're lucky with the salon search then you will be pampered with a shot of tequila, too.
Ice cream pedicure
The Ice cream pedicure is quite famous among youngsters as it starts with a foot soak that comprises of an ice-cream shaped bubbling "bath ball" enriched with vitamins, and minerals that help soften the feet. This is followed by a foot scrub with "ice cream sandwich" pumice for hard skin, where one side is for buffing and one side for softening and polishing. Or a vanilla, strawberry or chocolate foot scrub is also an option available. This is normally trailed by a "foot icing" vapor treatment using creamed lotion and is completed with red nail polish — to show like the cherry on top, of course!
Anti-Tan Pedicure
This is the most famous and in demand pedicure as we ladies usually face tanning the whole year in India. The feet get tanned in a very ugly way the whole year due to constant exposure to the sun. In fact, the curves of your shoes also form the tan line on your feet.
Experts can make you understand better how effective is this Skin lightening anti-tan pedicure.
French Pedicure
A French pedicure is the common pedicure or spa of your feet where cleaning, massaging, exfoliating and nourishing done in the usual way. The only difference is painting of a thin white line on the toenails followed by a sheer nude or pink base nail polish applied in the end.
It starts with general soaking up of feet in lukewarm water with essential oils, shampoo, and lemon juice. This is followed by soft exfoliating and massaging.
So, now you are aware of the list of famous pedicures accepted by trendy, stylish and graceful ladies. All these are choices in front of you. Which one are you going to pick?
Some ladies prefer doing it at home rather going to parlors. But, there is an immense difference in the results attained. It is advised to do salon pedicure.
For more information and book appointment for the best pedicure in Gurgaon, visit Olready!